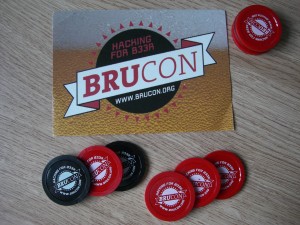 Well I am back from BruCon, and what can I say it was excellent. Benny and Co did a fantastic job of setting up and running the Conference, and I am sure an excellent time was had by all. Great to see faces old and new, listen to some great speakers, attend some great workshops and spend some excellent time with cool people drinking excellent beer 🙂
If your not sure what I am on about check out http://brucon.org for more information.
I have recorded a couple of videos that I will be posting over coming few weeks (due to Vimeo restrictions), so check back to the blog for presentations from Jayson Street, Chris Gates and Chris Nickerson.
If you want some detailed posts on some of the presentations as they went on check out Chris Riley's Blog (he has a time machine, so he could blog about them before the speaker even knew what they were saying).
Also check out Help Net Security for some official press material of the event.
So to all those I met and enjoyed the company of (you know who you are) thanks for a great one and see you soon.
Couple of pics, even some Kiosk hacking and Craig Balding talking about Cloud Security 🙂