As you are all more than aware in just 3 weeks time on the 20th October 2009 at the Fountains Abbey in London the RSA Security Bloggers Meet Up will be occurring. This event would not be a success without our sponsors, and we are proud to have Qualys as a confirmed sponsor.
If for some reason your not familiar with Qualys, here is some information on what they are about, and what they have to offer.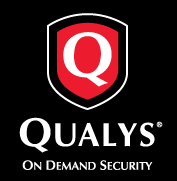 Qualys® provides the technology that organizations of all sizes need to cost-effectively ensure that their business-technology systems and applications remain highly secure and within regulatory compliance. In recent years, the demands on companies and government agencies to keep their networks and applications secure from attacker exploits that threaten the security of their proprietary information—and the information they hold about their customers—have skyrocketed. Not only has the dependence on IT systems increased for nearly every business, but so have the financial motivations of criminals to breach those systems and applications.
The result is an increase in the sophistication of attacks that jeopardize the confidentiality, integrity, and availability of applications, data, and critical business networks. At the same time, the demands of regulatory compliance have risen dramatically, affecting nearly every organization—from small Internet merchants to multinational corporations.
Through its Software-as-a-Service (SaaS) IT security risk and compliance management solutions, Qualys makes it possible for organizations to strengthen the security of their networks and conduct automated security audits that ensure regulatory compliance and adherence to internal security policies. Qualys is the only security company that delivers these solutions through a single SaaS platform that it pioneered back in 1999—QualysGuard®.  All of Qualys' SaaS solutions can be deployed on demand within hours anywhere around the globe, providing customers an immediate view of their security and compliance posture. As a result, QualysGuard is the most widely deployed security on demand solution in the world, performing more that 200 million audits per year.
Qualys attributes it phenomenal growth over the past 10 years to its customers, who have recognized the benefits of the SaaS model and have embraced it at the heart of their IT security and compliance efforts.
QualysGuard Security and Compliance SaaS Suite
The QualysGuard Security and Compliance Suite is comprised of the following products, all of which are delivered as a service with no new software to deploy or infrastructure to maintain:
–         QualysGuard Vulnerability Management—Qualys' full lifecycle solution for discovering all devices and applications across the network, while identifying and mitigating vulnerabilities that make network attacks possible.
–         QualysGuard Policy Compliance—Qualys' IT compliance solution helps organizations automate the collection of compliance data from systems and applications and tie it to corporate security policies, laws and regulations, enabling them to satisfy the requirements of internal and external auditors.
–         QualysGuard Web Application Scanning (WAS)—Qualys' WAS provides automated crawling and testing for custom web applications to identify and remediate cross-site scripting and SQL injection vulnerabilities. The automated nature of the service enables regular testing that produces consistent results, reduces false positives and easily scales for large numbers of web sites.
–         QualysGuard PCI Compliance— Qualys' PCI compliance application dramatically streamlines the PCI compliance process. QualysGuard PCI provides small and medium-sized businesses with enterprise-level scanning and reporting, while enabling large corporations to facilitate PCI compliance on a global scale.
The Pioneer in SaaS Security Solutions
Qualys was founded at the height of the technology bubble, in 1999, when network security was just beginning to appear on the agendas of executive management meetings around the globe. The company launched QualysGuard in December 2000, making Qualys among the first entrants in the vulnerability management market. QualysGuard moved to market with a powerful combination of its highly accurate and easy-to-use scanning technology and a revolutionary new approach to delivering security applications, which now is called "Software-as-a-Service."
Early skeptics of Qualys' SaaS delivery of security applications now embrace the on demand power and flexibility of SaaS and credit it with changing the economics of security while also helping to drive further consolidation among large, legacy software vendors. Cloud computing and SaaS are entering mainstream with security vendors of all sizes flocking to adopt this new disruptive model as it provides superior technical capabilities and significant economic advantages over enterprise software solutions.
Philippe Courtot, CEO and Chairman of Qualys, is one of the few entrepreneurs who believed in the SaaS model and pioneered at Qualys for delivering enterprise security applications. In his keynote at RSA Europe 2009, Courtot will discuss the impact of cloud computing on the IT industry and the changes it brings to the enterprise security landscape and to the security professionals.